OUR INFRASTRUCTURE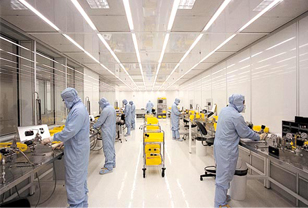 Making use of advanced hardware/ software complex tools and vendor specific (Seagate, Western Digital, Samsung, Toshiba, Hitachi etc.) technologies from all over the world, we are able to handle specific drive problems like System Area/ Firmware failures etc. with a nearly 100% success rate. In addition, we have several indigenously developed tools/ technologies/ packages/ work-flows etc. meant to address the most complex and challenging problems in the storage industry. No wonder we are recommended by most of the PC and Hard drive vendors in the region.


Why Choose Us?
ISO 5 COMPLIANT

Our State of the art Data Recovery Lab includes a facility which is compliant with ISO 5 specifications necessary to work on the internals of Hard Drives.

SECURE FACILITIES

All our Lab equipment, Computers and customers' drives are with class leading APC Power Conditioning UPS systems and are secured with Physical and Biometric access control systems.

SPARE PARTS

We do have an extensive inventory of to be used for sourcing parts needed during our recovery process. In addition, we have a good supply chain to procure specific drive make/ revision on a case to case basis.