data recovery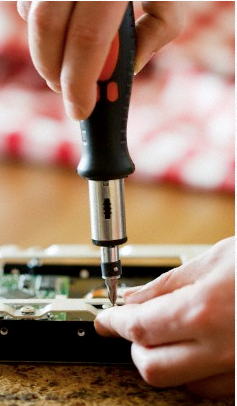 Nowadays, we all know that
Data recovery is the process of salvaging data from failed, corrupted, damaged or inaccessible secondary storage media such as internal or external hard disk drives, solid state drives (SSD), USB flash, Optical media like CDs/ DVDs, NAS devices,RAID volumes etc.
When we pioneered the concept of Data Recovery in the Middle East back in 2001, things were a lot different. Our sales teamoften faced difficulties in convincing people that
"All data that is gone is not gone forever"
and had to persuade some companies who used to send hard drives to the US and the UK for data recovery servicesto let us help them in the UAE itself.
Unlike other IT companies who just state "Data recovery also" in their portfolio, we are not a Total Solutions provider, but a Professional Data Recovery company with dedicated engineers, specialized equipment, lab including "Class 100" Clean facility etc. Being "focused"empowersus to concentrate all our efforts and resources in R&D to give you the
BEST POSSIBLE PROFESSIONAL DR SOLUTIONS AVAILABLE IN THE REGION.
WHEN YOU LOSE YOUR DATA, DON'T TAKE CHANCES
Since 2001, MORE Computers DRS has been helping individuals and the corporate world alike to "Get back to Business" when they face a Data Loss.
Most Fortune 100 companies operating in the Middle East come to us to recover their data, securely and confidentially.
Govt. Organizations and Financial Institutions vouch for our Expertise and honor our NDA.
Several people come to us as a final resort, after many unsuccessful/ unprofessional attempts.