RAID SERVERS/NAS DEVICES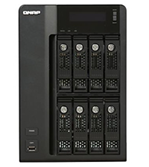 We keep ourselves updated on the developments taking place in the Storage Networking Industry and in the NAS/ DAS/ SAN product range from several brands like Buffalo, Net Gear, LaCie, Linksys, WD, Seagate and others. These devices, in addition to Servers with RAID volumes are extensively used to store critical data.
We have "Ready to Go" solutions tailored (developed in-house) for common brands/ server configurations and can easily adapt to any given Server/ NAS setup, to salvage data successfully in nearly 100% cases(if there is no additional human error).
WHEN YOU LOSE YOUR DATA, DON'T TAKE CHANCES
Since 2001, MORE Computers DRS has been helping individuals and the corporate world alike to "Get back to Business" when they face a Data Loss.
Most Fortune 100 companies operating in the Middle East come to us to recover their data, securely and confidentially.
Govt. Organizations and Financial Institutions vouch for our Expertise and honor our NDA.
Several people come to us as a final resort, after many unsuccessful/ unprofessional attempts.